Journal of Health Visiting
Journal of Health Visiting (JHV) is the only monthly, peer-reviewed journal that is dedicated solely to the UK's health visitors. JHV publishes evidence-based, accessible articles providing the professional and educational support that health visitors need to assist their own development, improve standards of care, and meet the health needs of the general public. JHV also offers subscribers with further support though an online programme of 12 reflective practice CPD modules per year.
Subscribing will enable you to:
Fulfil all of your mandatory annual CPD requirements
Stay up-to-date with current thinking and best practice in public health
Enhance your knowledge and understanding in all relevant clinical areas
What our readers say:
"I have been delighted to see how well Journal of Health Visiting has developed in such a short time - reflecting the mood of expansion and rejuvenation in the profession."
Professor Dame Sarah Cowley, Emeritus Professor, King's College, London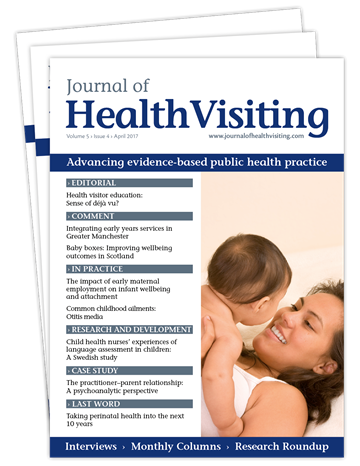 Latest print issues
Online archive since 2013
12 reflective CPD modules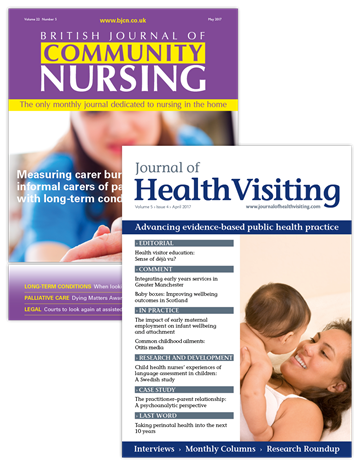 12 print editions of British Journal of Community Nursing
12 print editions of Journal of Health Visiting
CPD Launchpad access
Money-back guarantee. If – for whatever reason – you are not happy with the first issue you receive, our 30 day money-back guarantee means we will offer you a full refund, so you have nothing to lose. The first issue will be yours to keep.
Institutional subscriptions. Click here for information regarding our institutional rates for universities and private or public companies.