Journal of Kidney Care
Journal of Kidney Care (JKC) is the essential bi-monthly peer-reviewed publication for all members of the multidisciplinary renal team. It covers several clinical areas of renal medicine, such as dialysis, transplantation, diabetes, anaemia, pharmacy and nutrition. Every issue of the journal will have a clinical focus on one of these key aspects of kidney care. Formerly Journal of Renal Nursing, JKC was relaunched to reflect the multidisciplinary nature of kidney care and the wide range of the journal's content.
Subscribing will enable you to:
Stay up-to-date with current thinking and best practice
Maintain and update your knowledge and skills in key clinical areas
Support your continuing professional and educational development
You will also receive unlimited access to CPD Launchpad - the online platform helping nurses to meet their revalidation requirements.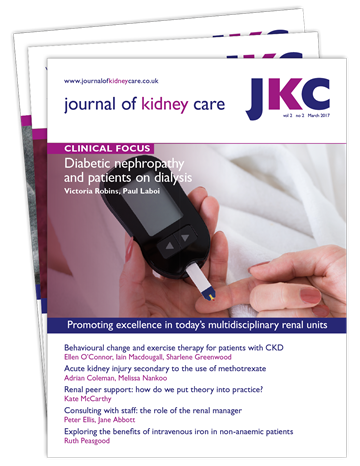 Latest print issues
CPD Launchpad access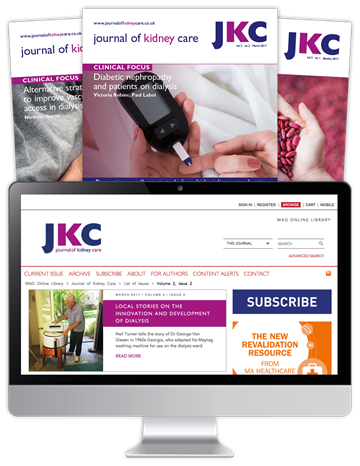 Latest print issues
Online archive since 2009
CPD Launchpad access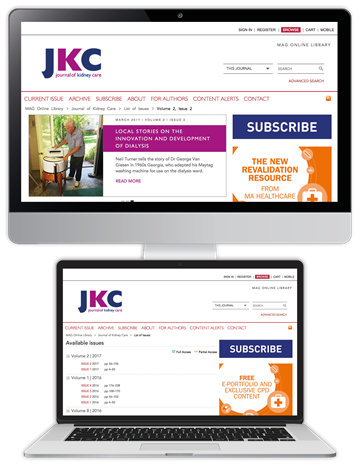 Online archive since 2009
CPD Launchpad access
Money-back guarantee. If – for whatever reason – you are not happy with the first issue you receive, our 30 day money-back guarantee means we will offer you a full refund, so you have nothing to lose. The first issue will be yours to keep.
Institutional subscriptions. Click here for information regarding our institutional rates for universities and private or public companies.