British Journal of Cardiac Nursing
British Journal of Cardiac Nursing delivers clinical, professional and accessible content to keep you ahead of the latest developments in this demanding speciality. It prioritises best practice, lifelong learning and the provision of the best possible care. All articles published in the journal are peer-reviewed by leading authorities in the field to ensure that the journal contains only the best and most relevant clinical reviews, original research, case studies and professional articles available to cardiac nurses.
Subscribing will enable you to:
Stay up-to-date with current thinking and best practice
Maintain and update your knowledge and skills in key clinical areas
Support your continuing professional and educational development
What our readers say:
"Having nursed in a coronary care unit for the past 15 years, I value the contribution our monthly subscription brings. Each new edition delivers opportunities to learn of new developments in cardiology and the articles are relevant to current practice. I encourage junior staff to read it as there is always something for both experienced and less experienced staff to learn." - Michelle Barrett, Research Nurse, Dublin
You will also receive unlimited access to CPD Launchpad - the online platform helping nurses to meet their revalidation requirements.
Latest print issues
CPD Launchpad access
Latest print issues
Online archive since 2006
CPD Launchpad access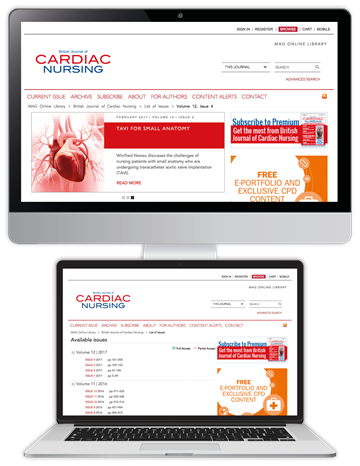 Online archive since 2006
CPD Launchpad access
Money-back guarantee. If – for whatever reason – you are not happy with the first issue you receive, our 30 day money-back guarantee means we will offer you a full refund, so you have nothing to lose. The first issue will be yours to keep.
Institutional subscriptions. Click here for information regarding our institutional rates for universities and private or public companies.