Journal of Aesthetic Nursing
Journal of Aesthetic Nursing is a peer-reviewed clinical and professional journal for aesthetic nurses. The journal pledges to support aesthetic nurses in advancing their practice and to encourage other nurses wishing to make a career in this specialty. We provide practitioners with practical advice, clinical expertise and support, to keep readers up-to-date with best practice and to support their continuing professional development.
Subscribe today for:
Professional guidance supporting your personal development
Evidence-based clinical articles enabling you to reflect on your practice
Psychology features to help you understand the people behind the patients
Practice management advice to help encourage happy clients and the growth of your clinic
What our readers say:
"Journal of Aesthetic Nursing offers an unbiased avenue to share best practice across a varied number of subjects from dermal fillers to professional liability. It is a reference document for experienced and novice practitioners alike, and acts as a mentorship tool. It is a vehicle to showcase our expertise, obtaining academic recognition and publication, all of which is necessary for revalidation and to obtain further qualifications."
Lynn Warren, Clinic Director, The Retreat Beauty Clinical and Cosmedical Ltd, Leeds

You will also receive unlimited access to CPD Launchpad - the online platform helping nurses meet and document their revalidation requirements.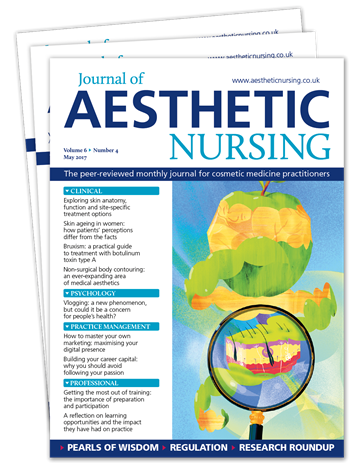 Latest print issues
CPD Launchpad access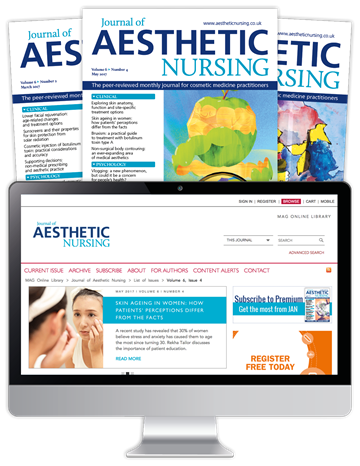 Latest print issues
Online archive since 2013
CPD Launchpad access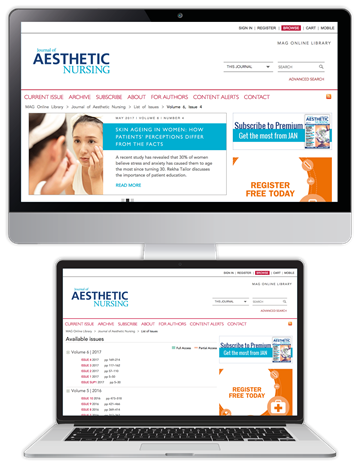 Online archive since 2013
CPD Launchpad access
Money-back guarantee. If – for whatever reason – you are not happy with the first issue you receive, our 30 day money-back guarantee means we will offer you a full refund, so you have nothing to lose. The first issue will be yours to keep.
Institutional subscriptions. Click here for information regarding our institutional rates for universities and private or public companies.