Practice Management - New Issue On Sale
Interested in the latest issue?


The latest edition of Practice Management is packed full of specialist professional content to help the primary care manager run their practice more effectively. It contains financial and legal advice, clinical features, and further management support. You can see the full contents here.



Highlights in this issue:

Nine priorities for health and social care regulation





GP online services: The wider picture





Management of glandular fever in primary care





Get ready for the new NHS wage deal





Data protection and the rules on retention


PLUS the latest primary care news and opinion


Why subscribe?

Practice Management is a great value professional resource for primary care managers. We publish a wide range of information and analysis on all aspects of running a busy GP practice, to provide you with the support you need to make your practice a success.

To ensure you receive the latest issue - subscribe now.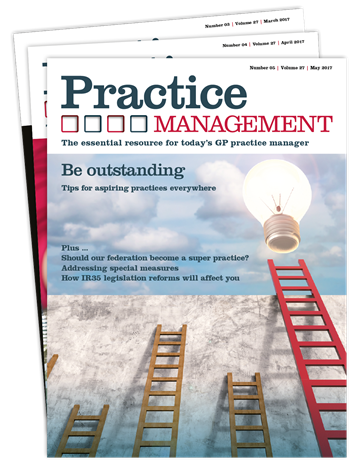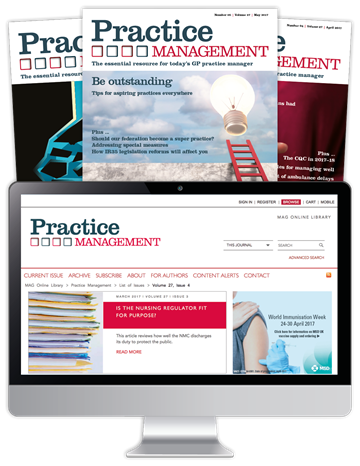 Latest print issues
Latest online issues + archive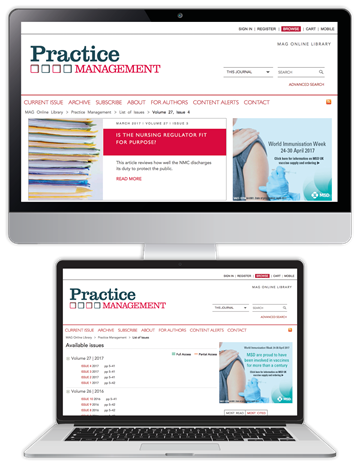 Latest online issues + archive
Money-back guarantee. If – for whatever reason – you are not happy with the first issue you receive, our 30 day money-back guarantee means we will offer you a full refund, so you have nothing to lose. The first issue will be yours to keep.
Institutional subscriptions. Click here for information regarding our institutional rates for universities and private or public companies.