Practice Management - Special Offer
Save 10% + receive your free gift



Practice Management is the professional magazine dedicated to the needs of GP practice managers. We believe that primary care practice managers play a crucial role in delivering care and improving outcomes for patients. The magazine aims to support managers in the work by ensuring they have access to a wide range of expert analysis and authoritative advice.



WHAT'S INCLUDED?

HOW CAN WE HELP YOU?

NEWS FOCUS
Comprehensive coverage of the latest primary care news,
and how this might affect you and your team

MANAGEMENT
Insights into running a busy practice, addressing concerns
such as staffing, patient concerns or legal compliance

CLINICAL
Accessible clinical articles that are designed for use by
non-medically trained managers

FINANCE
Specialist financial information from leading experts, advising
on how to optimise cost-effectiveness with quality of care

STAY INFORMED
Ensure that you are always up-to-date with current thinking
and best practice in primary care management

SUPPORT YOUR PRACTICE
Access key information to support the efficient management
of a GP practice

CLINICAL INSIGHT
Gain a greater understanding of the important clinical issues
that arise in primary care

IMPROVE OUTCOMES
By providing a wide range of management and clinical information,
the magazine will help you improve outcomes for patients


PLUS your FREE gift: Developing Management Potential (worth £19.99).
This book covers management skills with examples of best practice, showing readers how to lead, support and motivate care teams effectively.



YOUR SPECIAL OFFER

Save 10% when you subscribe today, and receive the magazine and your free gift from just £4.20 per month.
To claim this offer, please select your appropriate subscription option below, and quote coupon code PRM18C when prompted at the checkout.
Offer ends 8th June 2018.

*Gift special offer not available to existing subscribers. Your free gift will be mailed to you within 30 days of purchase. Only one gift per order - while stocks last. We do not provide cash alternatives. Annual direct debit/credit card subscriptions only.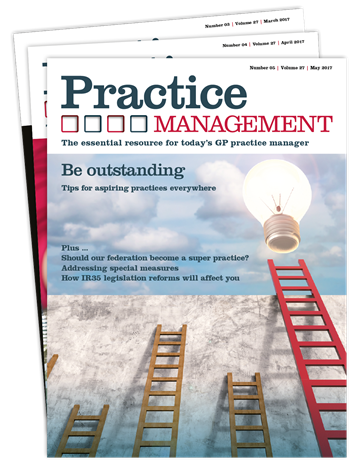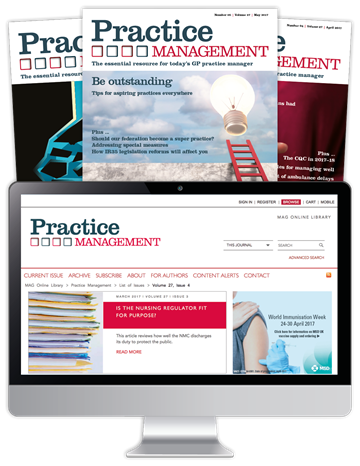 Latest print issues
Latest online issues + archive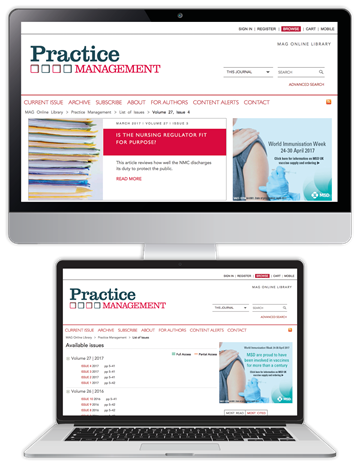 Latest online issues + archive
Money-back guarantee. If – for whatever reason – you are not happy with the first issue you receive, our 30 day money-back guarantee means we will offer you a full refund, so you have nothing to lose. The first issue will be yours to keep.
Institutional subscriptions. Click here for information regarding our institutional rates for universities and private or public companies.