Practice Nursing - new issue on sale

Interested in the latest issue of Practice Nursing?

Practice Nursing provides nurses working in general practice with the tools to reach their full potential and deliver the best possible care to their patients. The journal informs and inspires by providing relevant, evidence-based clinical articles, highlighting key professional issues and promoting the latest nurse-led research.

HIGHLIGHTS IN THIS ISSUE:

Clinical focus
Chronic lymphocytic leukaemia: A guide for practice nurses

Clinical
Management of incontinence associated dermatitis

Professional
General practice nurse workforce review: Findings from York

Comment
Why men should reconsider practice nursing as a career

Letter
Asking for a pay rise in general practice, 'Sorry, no'

Research
What factors influence an early COPD diagnosis in primary care?


Why subscribe?

Every edition of Practice Nursing has been carefully put together to make it easy for you to enhance your skills and understanding in key clinical areas, reflect on your learning, support your CPD and keep up-to-date with current thinking and best practice in primary care. To ensure you receive the latest issue - subscribe now.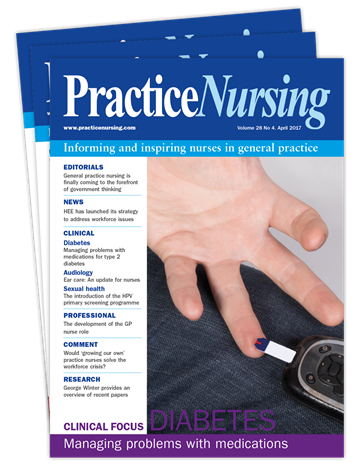 Latest print issue
Additional supplements
CPD Launchpad access
Latest print issues
Online archive since 1997
Additional supplements
CPD Launchpad access
Online archive since 1997
Additional supplements
CPD Launchpad access
Money-back guarantee. If – for whatever reason – you are not happy with the first issue you receive, our 30 day money-back guarantee means we will offer you a full refund, so you have nothing to lose. The first issue will be yours to keep.
Institutional subscriptions. Click here for information regarding our institutional rates for universities and private or public companies.