Journal of Aesthetic Nursing - new issue on sale

Interested in the latest issue of Journal of Aesthetic Nursing?

JAN is a peer-reviewed clinical and professional journal for aesthetic nurses. The journal pledges to support aesthetic nurses in advancing their practice and to encourage other nurses wishing to make a career in this specialty. We provide practitioners with practical advice, clinical expertise and support, to keep readers up-to-date with best practice and to support their continuing professional development.

HIGHLIGHTS IN THIS ISSUE:

Clinical
The ageing hand, part one: volumisation using dermal fillers
and autologous fat

Infection control and skin disinfection prior to injectable
aesthetic procedures

Investigating the influence of relative humidity on
expression microwrinkles

Professional
Capacity and consent: understanding the implications for
nursing practice

How to host an event: sharing lessons learned from experience

Practice Management
Company directors have legal obligations to their company
and creditors


Why subscribe?

Every edition of Journal of Aesthetic Nursing has been carefully put together to make it easy for you to update your clinical skills, reflect on your practice and help you understand the people behind the patients. To ensure you receive the latest issue - subscribe now.

You will also receive unlimted access to CPD Launchpad - the online platform helping nurses to meet their revalidation requirements.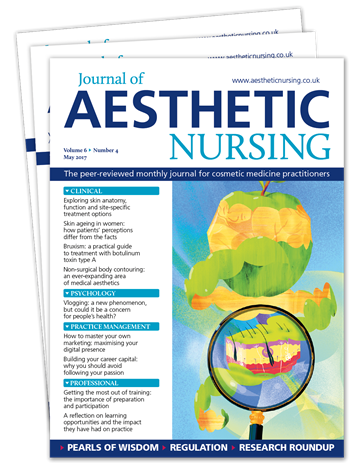 Latest print issues
CPD Launchpad access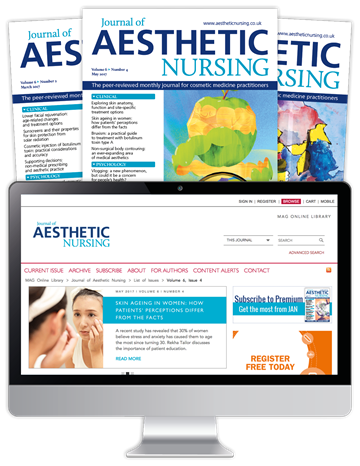 Latest print issues
Online archive since 2013
CPD Launchpad access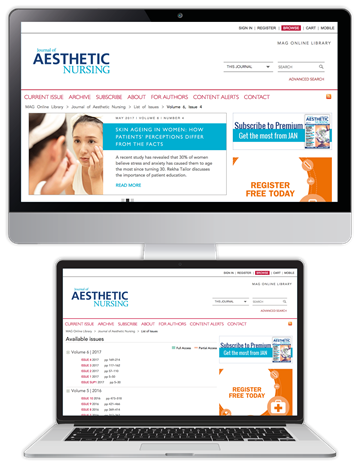 Online archive since 2013
CPD Launchpad access
Money-back guarantee. If – for whatever reason – you are not happy with the first issue you receive, our 30 day money-back guarantee means we will offer you a full refund, so you have nothing to lose. The first issue will be yours to keep.
Institutional subscriptions. Click here for information regarding our institutional rates for universities and private or public companies.