British Journal of Mental Health Nursing
British Journal of Mental Health Nursing is the peer-reviewed journal that delivers analysis, commentary and practical information for mental health professionals. The journal promotes best practice across the full spectrum of mental health nursing, including common disorders, clinical innovations and pharmacological and non-pharmacological interventions. The journal supports readers' professional development, and acts as a key resource for the delivery of evidence-based care.

Subscribing will enable you to:
Stay up-to-date with current thinking and best practice
Maintain and update your knowledge and skills in key clinical areas
Support your continuing professional and educational development
What our readers say:
"Evidence-based, applicable to all areas of mental health nursing practice and of relevance to groups from student nurses to senior clinicians and managers."
Kevin Gournay, Emeritus Professor of Psychiatric Nursing, King's College London
You will also receive unlimited access to CPD Launchpad - the online platform helping nurses to meet their revalidation requirements.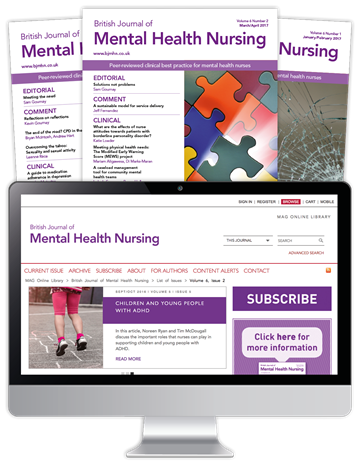 Latest print issues
Online archive since 2010
CPD Launchpad access
Money-back guarantee. If – for whatever reason – you are not happy with the first issue you receive, our 30 day money-back guarantee means we will offer you a full refund, so you have nothing to lose. The first issue will be yours to keep.
Institutional subscriptions. Click here for information regarding our institutional rates for universities and private or public companies.