African Journal of Midwifery and Women's Health & British Journal of Midwifery
British Journal of Midwifery and African Journal of Midwifery and Women's Health are the premier journals for midwives, containing an unrivalled amount of clinical, professional and educational content on midwifery. The journals publish the most relevant and up-to-date original research, evidence-based papers and clinical reviews, while AJM also keeps you up-to-date with developments in Africa, in matters relating to midwifery and women's health.
Subscribe today for:
Original research that will have implications for your clinical practice
The latest clinical developments from around the world
Professional support for your educational development
You will also receive unlimited access to CPD Launchpad - the online platform helping midwives revalidate.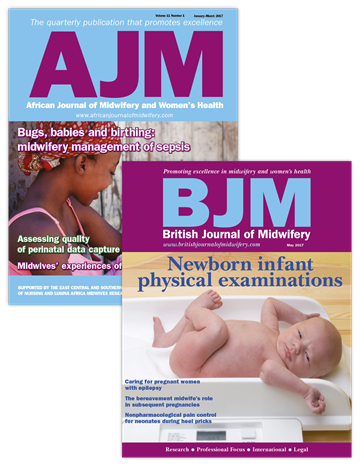 Print issues of BJM
Print issues of AJM
CPD Launchpad access
Money-back guarantee. If – for whatever reason – you are not happy with the first issue you receive, our 30 day money-back guarantee means we will offer you a full refund, so you have nothing to lose. The first issue will be yours to keep.
Institutional subscriptions. Click here for information regarding our institutional rates for universities and private or public companies.