The Veterinary Nurse
The Veterinary Nurse delivers high-quality, peer-reviewed practical articles to assist veterinary nurses in daily practice. Written and reviewed by expert practitioners, it covers every clinical topic of relevance, such as nutrition, pharmacology and critical care, and every species you are likely to encounter - large, small and exotic; it is the professional resource for clinical expertise, best practice and continued learning.
The journal also offers an extensive online CPD programme, allowing subscribers to complete 10 reflective practice CPD modules per year, and stay ahead of their CPD obligations.
Subscribing will enable you to:
Stay up-to-date with current thinking and best practice in veterinary medicine
Enhance your knowledge and understanding of all key clinical topics
Acheive the mandatory requirement of 45 hours' documented CPD over a three-year period

What our readers say:
"The online CPD from the journal is great for the working nurse. It is accessible 24 hours a day, 7 days per week and means that you are able to fit further study around your job and homelife. The topics are current and relevant, and as they are based on articles from the journal, the content is scientific - perfect for the enquiring mind."
Ruth Tomlinson, Veterinary Nurse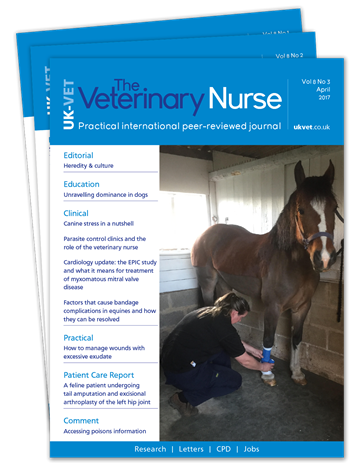 Latest print issues
Peer-reviewed CPD articles
Latest print issues
Online archive since 2010
Reflective CPD modules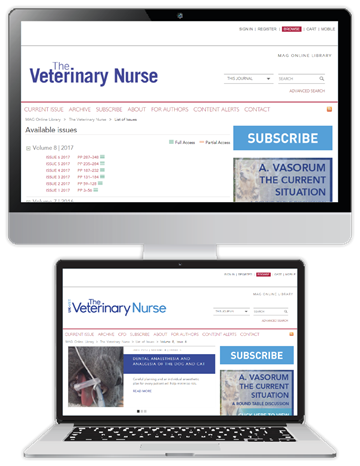 Online archive since 2010
Reflective CPD modules
Money-back guarantee. If – for whatever reason – you are not happy with the first issue you receive, our 30 day money-back guarantee means we will offer you a full refund, so you have nothing to lose. The first issue will be yours to keep.
Institutional subscriptions. Click here for information regarding our institutional rates for universities and private or public companies.