Companion Animal & The Veterinary Nurse
Aimed at veterinary surgeons who care for small animals and exotics, Companion Animal delivers the practical information vets need to inform their practice, while The Veterinary Nurse is dedicated to the educational needs of practising nurses.
Combined, they make an all-inclusive resource for staff in a small animal practice. Providing peer-reviewed clinical articles, case studies, research and CPD support for both vets and nurses, they share the latest best practice procedures and encourage continued education. Both journals also provide online CPD programmes, keeping subscribers ahead of their CPD obligations.
Subscribing will enable you to:
Stay up-to-date with current thinking and best practice in all aspects of veterinary medicine
Enhance your knowledge and understanding of all key clinical topics
Achieve your mandatory documented CPD requirements (35 hours per year for vets, 15 hours per year for nurses)
If you are interested in a practice subscription, which provides print journals, online archive access and CPD licenses for your staff, please contact our subscriptions team by emailing subscriptions@markallengroup.com or calling 0800 137 201.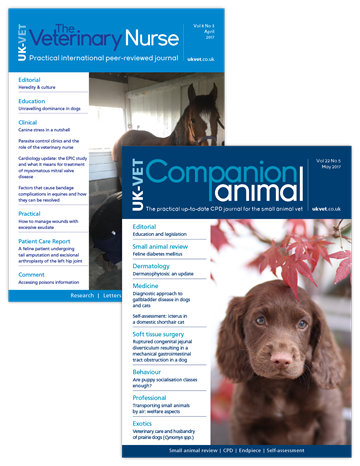 Companion Animal
The Veterinary Nurse
Reflective CPD modules
Money-back guarantee. If – for whatever reason – you are not happy with the first issue you receive, our 30 day money-back guarantee means we will offer you a full refund, so you have nothing to lose. The first issue will be yours to keep.
Institutional subscriptions. Click here for information regarding our institutional rates for universities and private or public companies.