Companion Animal - new issue on sale

Interested in the latest issue of Companion Animal?

This month's edition of Companion Animal is packed full of the latest practical information for the practising small animal vet. Published monthly, with an online archive dating back to 2006, it shares educational content to help vets stay up-to-date with clinical best practice, and ahead of their CPD requirements.

HIGHLIGHTS IN THIS ISSUE:

Toxicology
Cyanobacteria (blue-green algae) exposure in dogs

Neurology
Approach to canine paroxysmal dyskinesias

Exotics
Surgical correction of a herniated bladder in a
6-year-old male entire rabbit (Oryctolagus cuniculus)

Surgery
Surgical management of screw-tail in dogs

Professional
Quality of life assessment in companion animals:
what, why, who, when and how

Medicine
Two cases of canine exophthalmos


Why subscribe?

Every edition of Companion Animal has been carefully put together to make it easy for you to update your clinical skills, reflect on your practice, and invest in your continuing professional development. To ensure you receive the latest issue - subscribe now.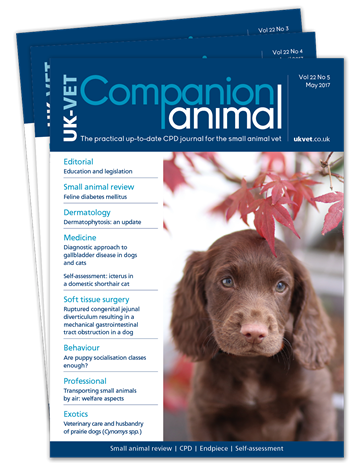 Latest print issues
Peer-reviewed CPD articles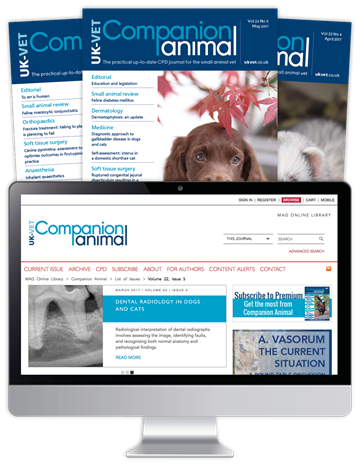 Latest print issues
Online archive since 2006
Reflective CPD modules
Online archive since 2006
Reflective CPD modules
Money-back guarantee. If – for whatever reason – you are not happy with the first issue you receive, our 30 day money-back guarantee means we will offer you a full refund, so you have nothing to lose. The first issue will be yours to keep.
Institutional subscriptions. Click here for information regarding our institutional rates for universities and private or public companies.