British Journal of Nursing - new issue on sale
The new & improved BJN is available now


For over 25 years, British Journal of Nursing (BJN) has provided the nursing community with a comprehensive resource that brings together clinical expertise, professional development, nurse education and leadership. As the nurse's role becomes more demanding, we have made some important changes to the journal. Starting from the current issue, it will contain more clinical content, more practical support, and new 'bite-size' features - to make the information you need in practice more accessible.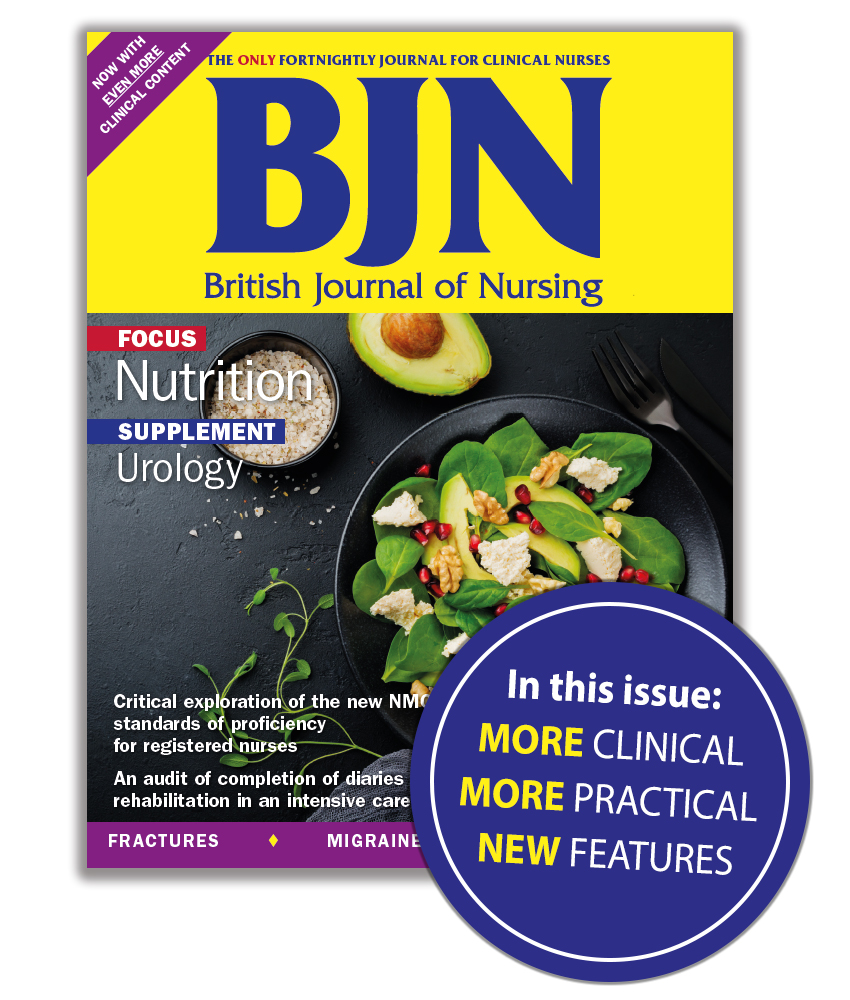 More clinical content:
Adult pressure area care: preventing pressure ulcers
Feeding tube securement in critical illness: implications for safety
Delivering artificial nutrition and hydration safely by feeding pumps
More practical support:
An audit of completion of diaries for rehabilitation in an intensive care unit
Immunosuppression following organ transplantation
Critical exploration of the new NMC standards of proficiency for nurses
New: 'At a glance' articles:
Identifying and managing acute migraine attacks in adults
Identifying and managing non-complex fractures
Interested in subscribing?
If you subscribe today, not only will you receive the updated British Journal of Nursing, but we will also give you one of our sister publications - absolutely free! Including British Journal of Cardiac Nursing, British Journal of Neuroscience Nursing, Gastrointestinal Nursing, Journal of Kidney Care, Journal of Wound Care and Nurse Prescribing, they each provide specialist information to complement the multisiciplinary support you will receive from BJN.
Select your option below - you could save from £90 - £185 per year.
Money-back guarantee. If – for whatever reason – you are not happy with the first issue you receive, our 30 day money-back guarantee means we will offer you a full refund, so you have nothing to lose. The first issue will be yours to keep.
Institutional subscriptions. Click here for information regarding our institutional rates for universities and private or public companies.